OUR CLIENTS
We can supply and plant a wide range of mature trees and have performed work for numerous private companies and government agencies. Including the Sydney 2000 Olympics Venue, Hong Kong Disneyland, Lang Park Brisbane. Randwick Racecourse, Fox Movie Studios and the Sydney Botanical Gardens, just to name a few.
We were responsible for the transport by barge of 90 figs trees comprising six separate trips, a 1000 kilometres down the Australian coast from the Queensland and New South Wales border to Sydney Harbour and then to their final planting spot at the Sydney Olympic site at Homebush. We were also awarded the contract to move the majority of the trees at the Sydney Olympic Games Site. The largest tree being a ficus macrophylla, weighing some 280 tonnes.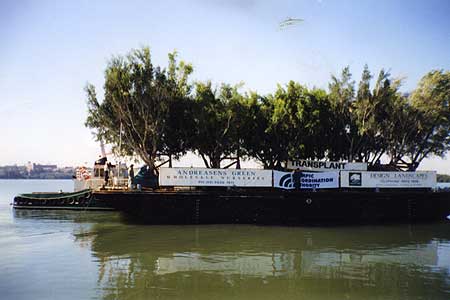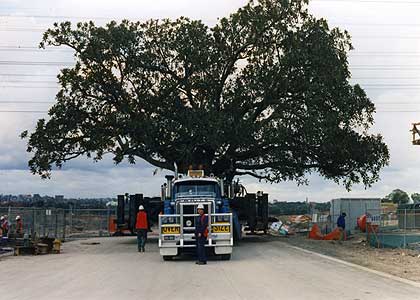 Hong Kong Disneyland - As part of the project we also Supplied of
130 large Moreton Bay figs , Including sourcing, quarantining and shipping to

-------------------------------------------------------------------

Below is an article from the Sydney Morning Hearald
Instant trees to screen out neighbours from hell
By Peter Munro
April 26 2003

Mark Paul was too impatient to watch his trees grow. There was not time to start small, so he paid $80,000 for them to be delivered already tall.
"I'm 43 years old, and that's got to be at least half way, and I can't own trees this size by trying to grow them from seedlings with the time I've got," he said.
Mr Paul, an electrician, bought 20 mature palm trees from a tree nursery at Peats Ridge for the garden at his new home at Castle Hill. The lot includes two 70-year-old Canary Island date palms that are 18 metres tall.
The nursery will also transplant Mr Paul's collection of cycads, a tree family with roots stretching back to the dinosaur age, from his current home at Granville.
"I've had the experience of starting a garden from day one and I don't need that experience again," Mr Paul said.
http://www.smh.com.au/articles/2003/04/25/1050777407228.html